Welcome! Ready to take action to improve our community? Subscribe to our newsletter for email updates below, or join our Facebook group. Want to help plan actions? Sign up below.
Elections 2018
Click here to read candidate responses to our endorsement questionnaires.
For even more elections info, click here.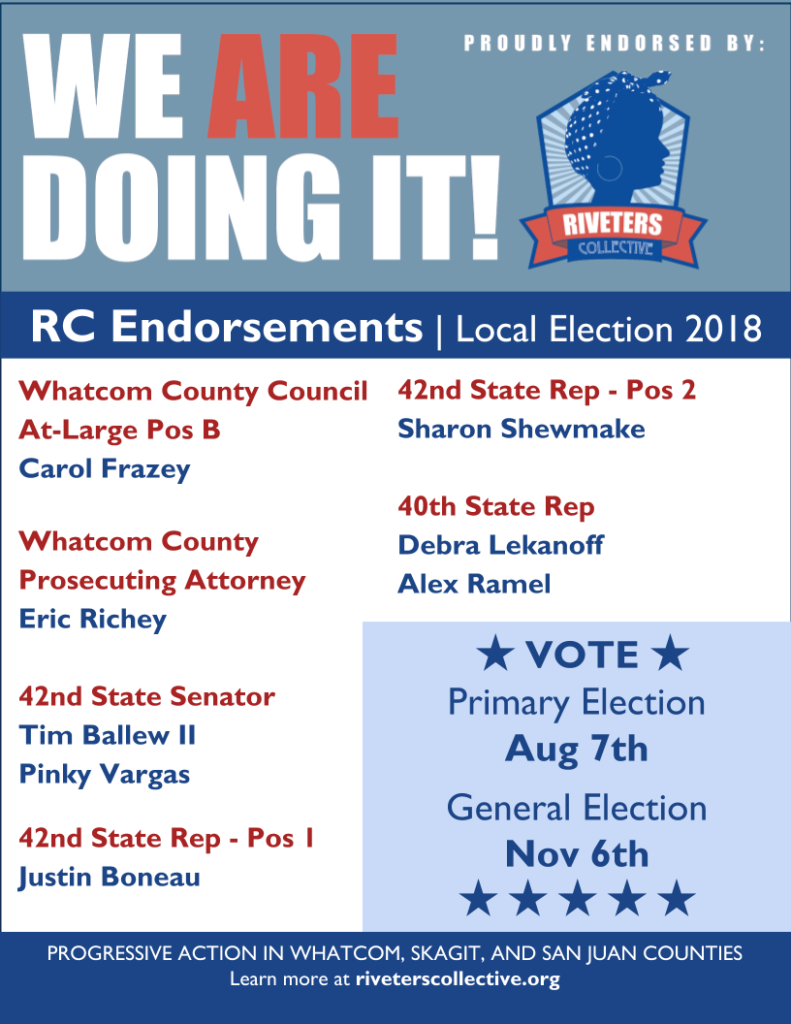 Mission
Riveters Collective discovers, develops and promotes effective progressive civic action in Whatcom County and neighboring communities. 
Vision
Riveters Collective envisions a diverse community of informed and empowered citizens engaged in progressive political activism to improve the lives of all. 
Click here to view our 2018 platform.

Our Board
Eowyn Savela, President
Elizabeth Hartsoch, Vice President
Genevieve Jones, Secretary
Towhee Wean, Secretary
Suzanne Munson, Treasurer
Stephen Jackson, board member
Marissa McGrath, board member
Lisa McShane, board member
Michael Peñuelas, board member
Lisa Van Doren, board member
Riveters Collective is a Washington State Nonprofit Corporation.  However, Riveters Collective has chosen not to pursue 501 (c) tax exempt status from the IRS at this time.  Donations made to Riveters Collective are not tax deductible.