For the first time, this year we used two positive designations for candidates: endorsed and recommended. We asked our Endorsement Committee to assign the "endorsed" designation to our true champions (i.e. candidates that we believe will work most effectively to advance our platform's values). We used the "recommended" designation to identify solid candidates who demonstrate good alignment with our platform, or at the Board's discretion, to communicate a preference for a candidate in a race that was outside the scope of our Endorsement Committee's work this year.
Many thanks to this year's Endorsement Committee: Elizabeth Hartsoch, Towhee Wean, Arlene Feld, Sophia Rey, Candice Cross, Zenda Boss-Hall, Abby Yates, and Suzanne Munson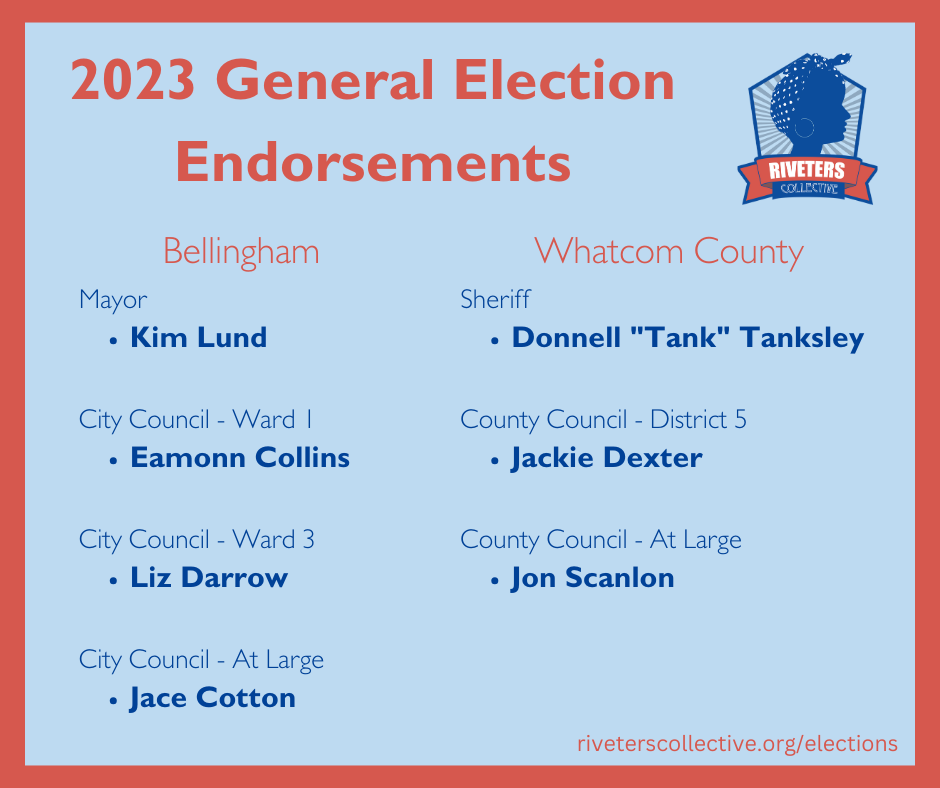 Bellingham Mayor – we endorsed two candidates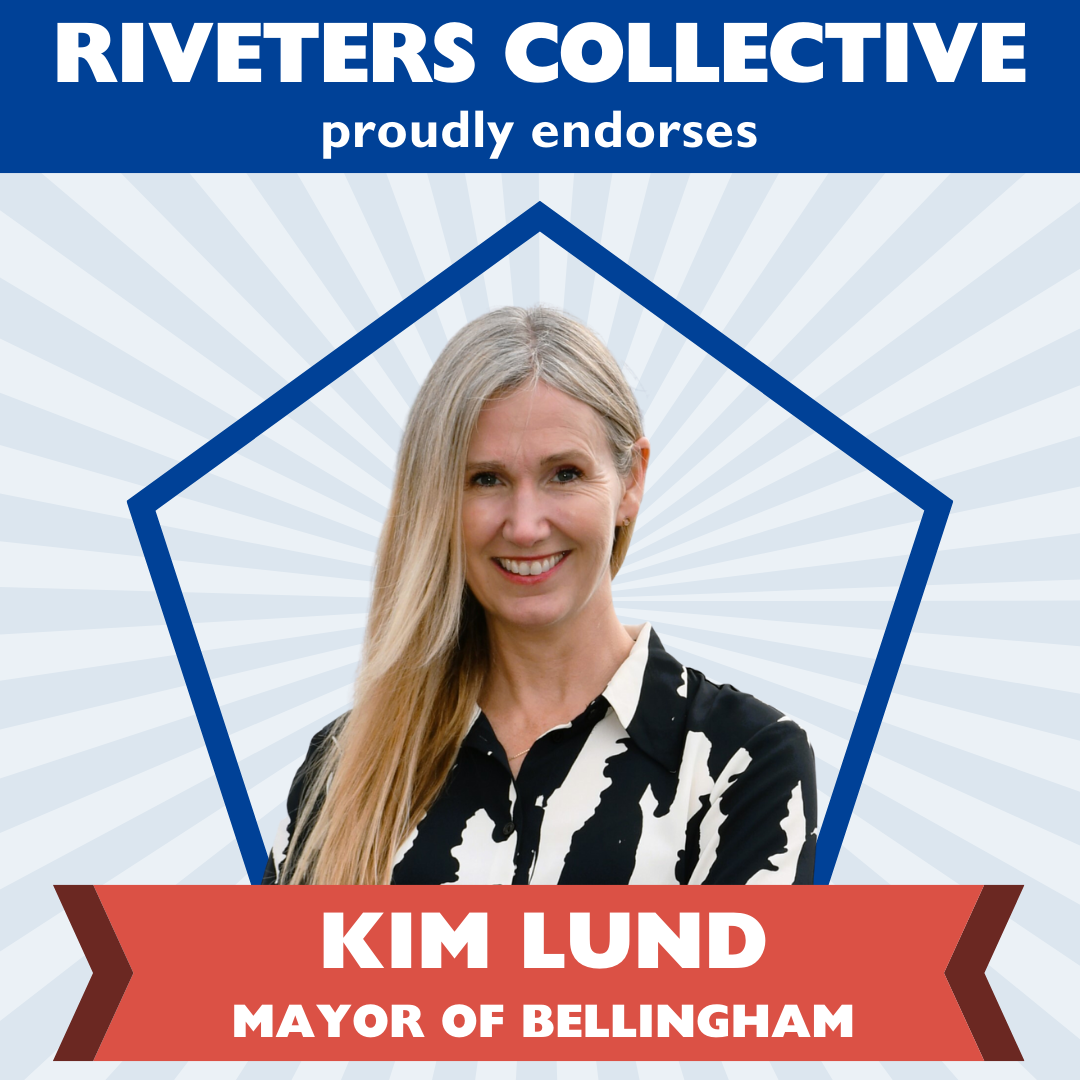 Kim Lund has a data-driven decision-making approach as well as a self proclaimed "how do we get to yes" dedication towards collaboration and solving problems. Her priorities regarding housing; community health, safety, and connection; climate; and tribal relations are in line with the Riveter's Collective platform. Her thought process situates problems in context and identifies solutions that match the scale of the problem. Kim has the skill set to efficiently tackle the many challenges needing attention and change in Bellingham, and we know that Kim is ready and willing to put in the necessary work. We are excited to endorse her for Bellingham Mayor.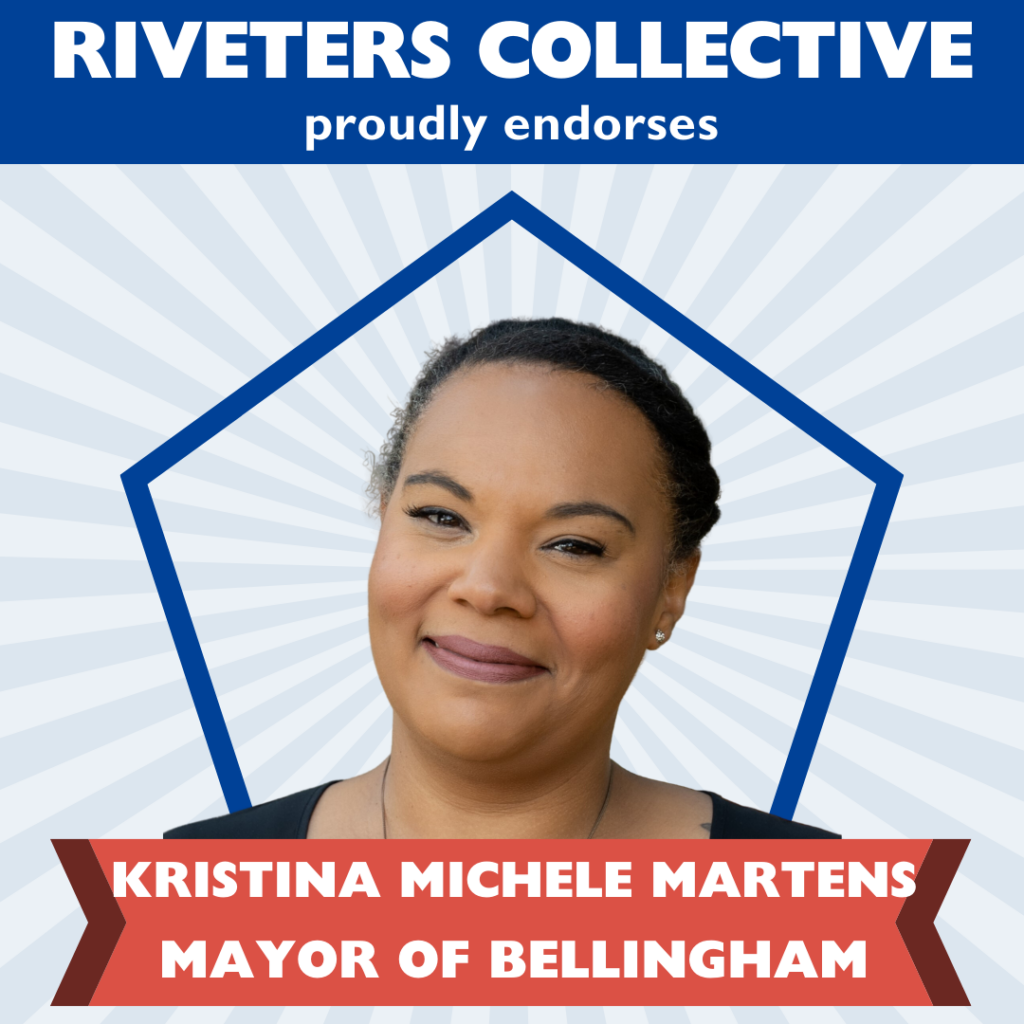 Kristina Michele Martens brings bold ideas and courage under fire to the challenges facing the City of Bellingham. She believes that all issues intersect and that the key to building a safe, vibrant community starts with access to affordable housing and healthcare. She supports the establishment of a city-funded Immigrant Resource Center; wants to ensure plentiful funding for mental health and crisis workers; advocates for raising the minimum wage and protections for renters; and believes that we should follow the lead of local tribes in implementing plans for culvert removal for salmon protection. Kristina's vision for a healthier community, coupled with her "act now" attitude, make her an ideal Riveters Collective candidate. We are proud to endorse her candidacy for Bellingham Mayor.
Bellingham City Council – Ward 1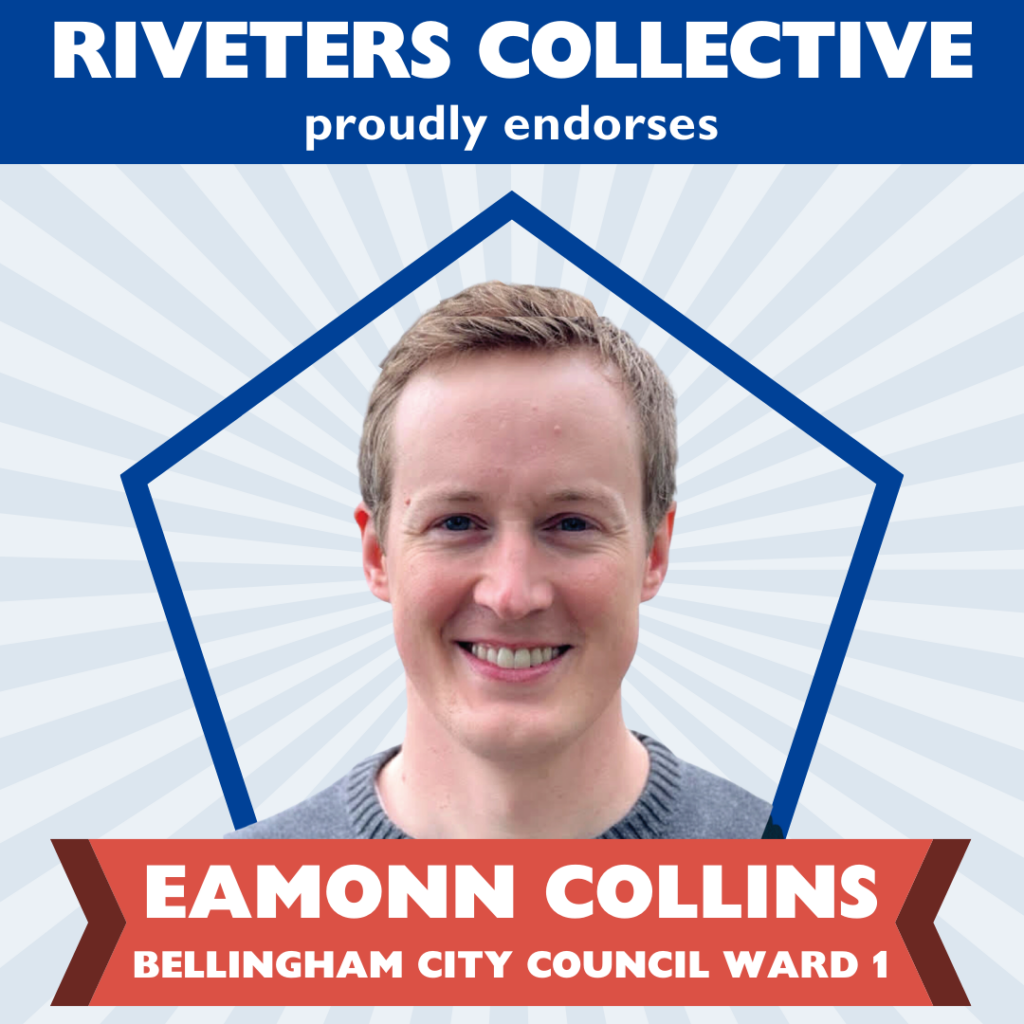 Eamonn Collins believes that solving our affordable housing crisis is key to addressing all other challenges. As a trustee of the Kulshan Community Land Trust, he brings extensive housing policy experience into this race, and has identified many ways to streamline regulations to quickly increase the supply of affordable homes. His frustration with the lack of action to address our current housing crisis was evident in his answers to our written and oral questions, as exemplified by this line from his written questionnaire: The large population of local residents living unsheltered in public and the growing unaffordability of homes are policy choices we make by failing to use the tools at our disposal. We believe Eamonn will use all of the tools at his disposal and will work to find new ones when needed. His serious and informed, yet compassionate and hopeful, approach to policy making and governance makes him just the type of candidate we love to support.
Bellingham City Council – Ward 3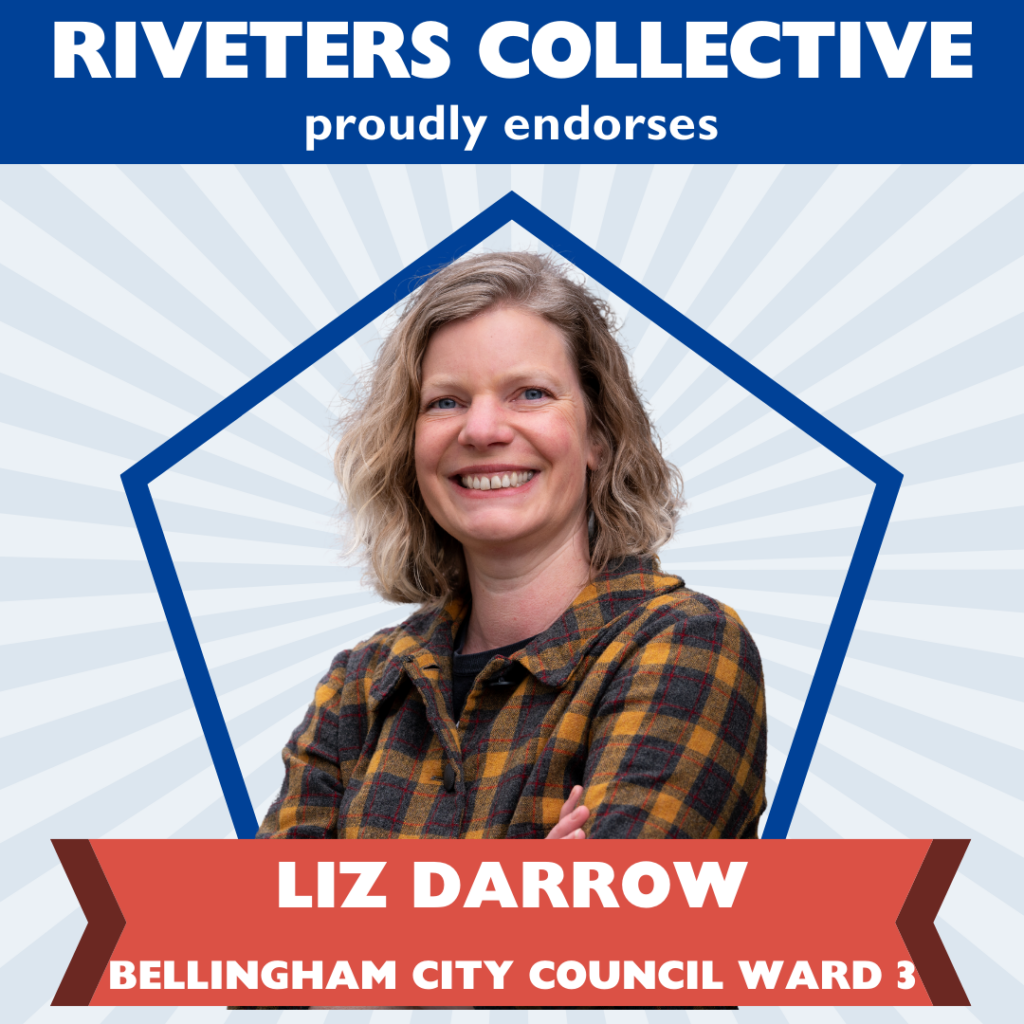 Liz Darrow is active in community building and policy development aimed at helping the Bellingham residents who need it most. She brings unceasing energy and passion to the work she does, and has demonstrated an ability to build trust and work in solidarity with other community organizers and activists, as demonstrated in her role on Bellingham's Immigration Advisory Board. She is an advocate for immediately using funds from the Home Fund to address current housing needs, keeping the jail small, and funding safe use sites and drug addiction services. She's committed to climate justice and desires to see the City focus on the needs of workers, people of color, and low income communities in its Climate Action plans and policies. As Riveters and neighbors, we've marched alongside Liz in support of the issues we care about. We're excited for her to bring her perspective and experience to City Council.
Bellingham City Council – At Large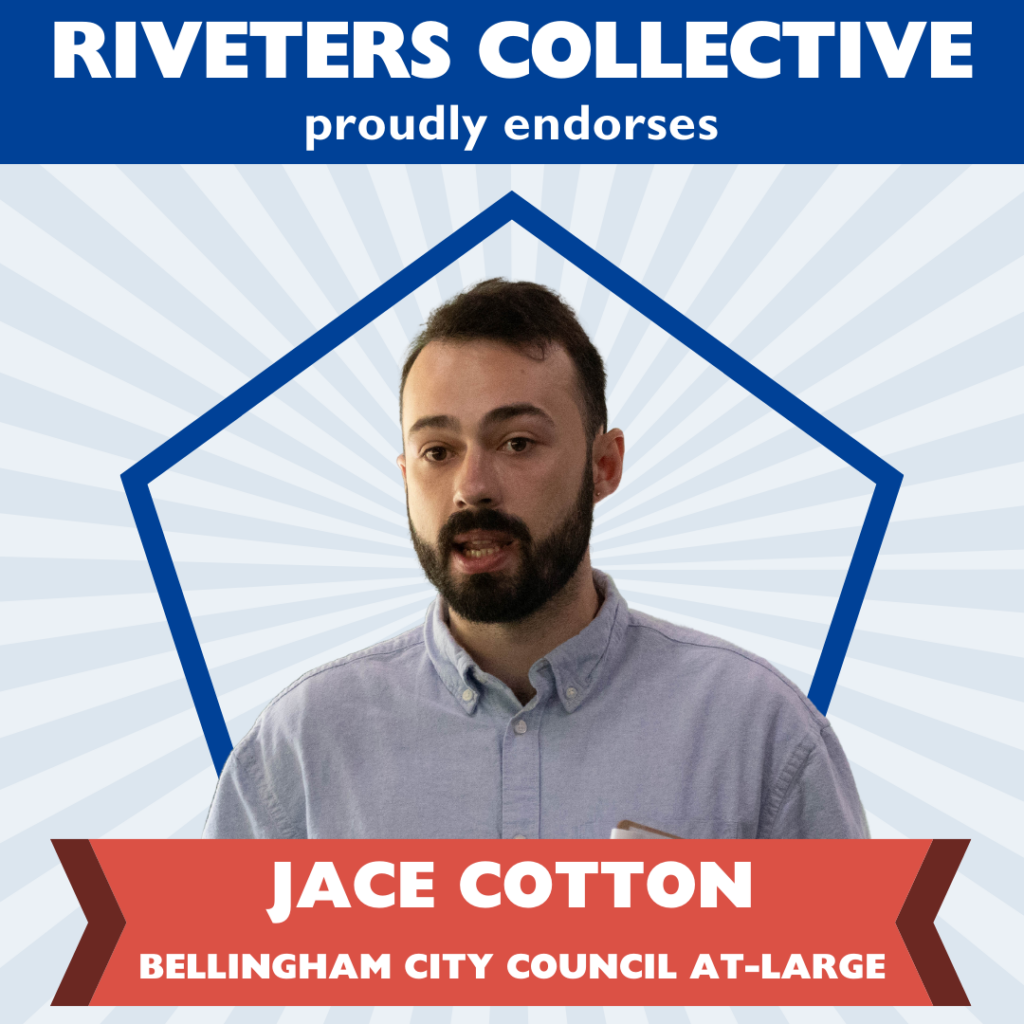 Jace Cotton has been active in local progressive politics for several years, including managing the Whatcom Democrats 2022 campaign to elect all Democrats in the 42nd District and leading the effort to count every vote for Prop 5, the Healthy Children's Fund. He is well-studied on housing, criminal justice, and climate issues, and approaches policy development with equal parts pragmatism and compassion. We've seen Jace put in the work to move progressive values forward in our community. We're excited to see him bring his energy and talents to the Bellingham City Council.
Whatcom County Executive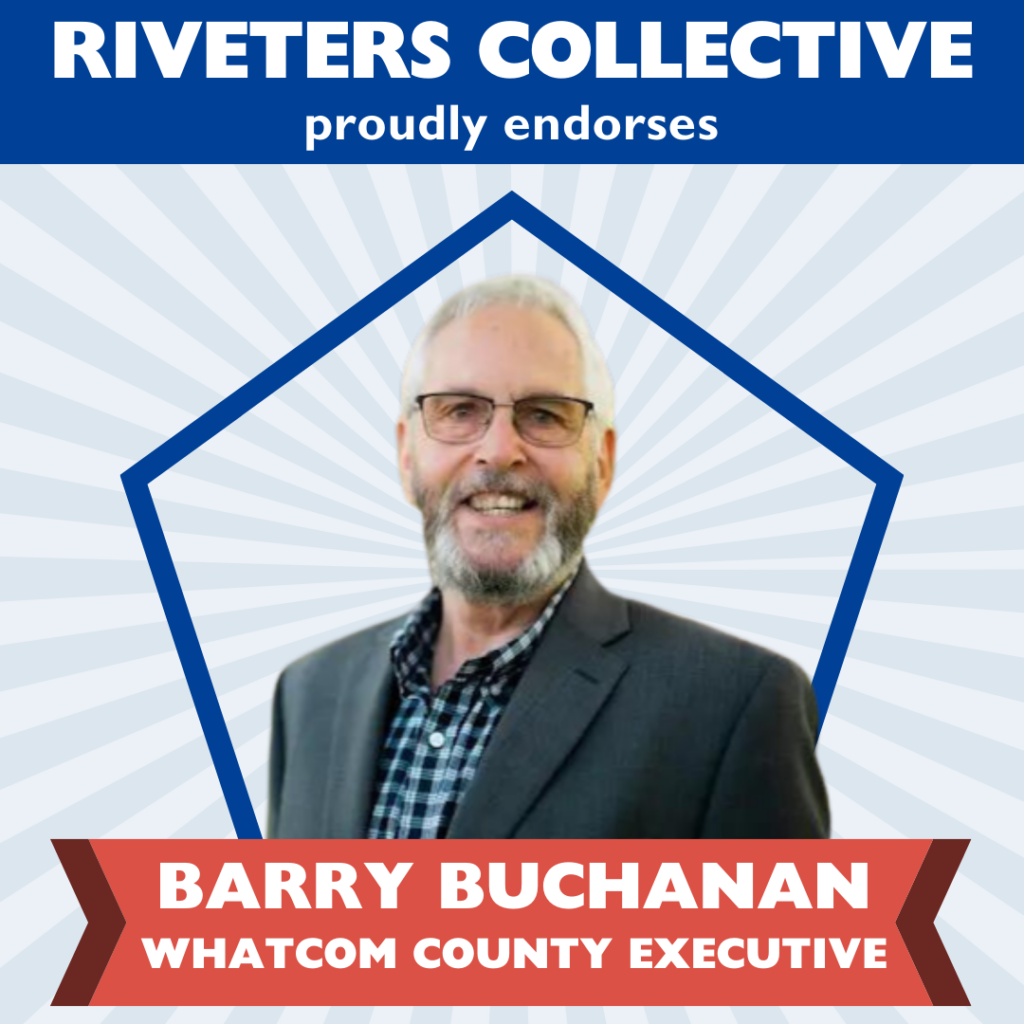 Barry Buchanan is a long-time public servant – previously elected to the Bellingham City Council and currently serving on the Whatcom County Council – with demonstrated skills in collaboration, facilitation, and executive management. In 2018, Buchanan formed the Whatcom County Justice Project, an ambitious, years-long effort with the mission to create a more humane and restorative criminal justice system, which included the work of the Incarceration Prevention and Reduction Task Force, Stakeholders Advisory Committee, Needs Assessment Committee, and Implementation Committee. Barry's pivotal role in this project; his advocacy for focusing on diversion, treatment, and services instead of a large and expandable jail; his support for farmworkers; and his unwavering commitment to water right's adjudication stood out from a field with multiple candidates who have earned Riveters Collective's endorsement in the past. We look forward to partnering with Barry in the coming years to find solutions to Whatcom County's challenges.
Whatcom County Sheriff
Donnell "Tank" Tanksley's early life began with military service, racial profiling by police, and experience with homelessness. He began his storied career in law enforcement at the St. Louis Metropolitan Police Department and has since worked in urban areas, rural areas, and on university campuses, making him the only candidate in the Sheriff's race that has experience leading a law enforcement agency.. He currently serves as the Chief of Police in Blaine. He is motivated in his work by a belief that "everyone should feel safe", and he displays a top down commitment to training in de-escalation techniques, most effective ways to use force, and crisis intervention. He is a certified facilitator in Fair and Impartial Policing, and is focused on instructing law enforcement personnel on how to reduce the influence of bias in their work. With 30 years' experience in law enforcement, a formal education in management, and a passion for public service, we believe Tank to be an ideal candidate for Whatcom County Sheriff. We're excited to endorse his candidacy.
Whatcom County Council – District 5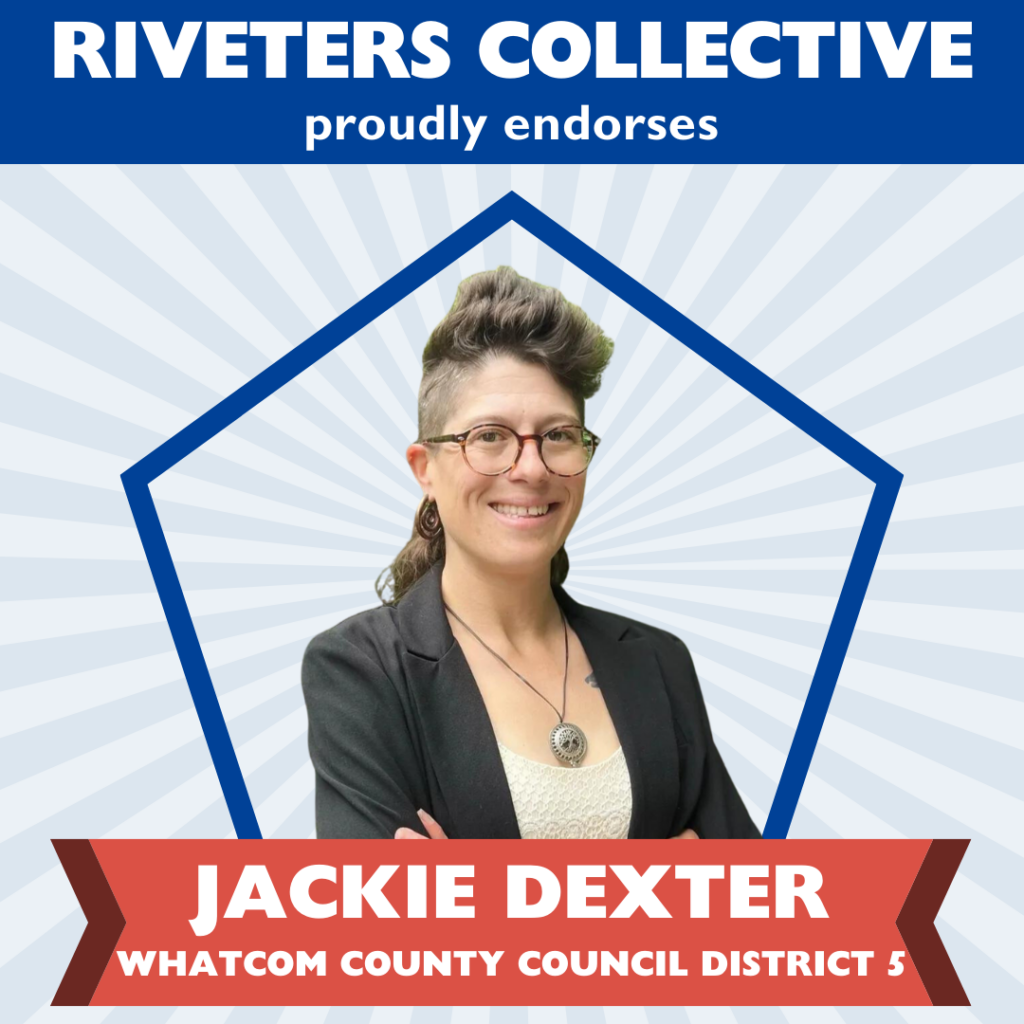 Jackie Dexter is a quintessential Riveters Collective-style political newcomer; deeply connected with place. She sees work to be done and steps up to do it. As a professional shellfish biologist for the Drayton Harbor Oyster Company, a Blaine resident, and a parent of young children, Jackie has first-hand experience with challenges specific to Whatcom County Council District 5 (the Coastal District) and shared throughout the county. Her low-quality Wi-Fi actually impacted our interview. Jackie is the only candidate challenging Ben Elenbaas.
Whatcom County Council – At Large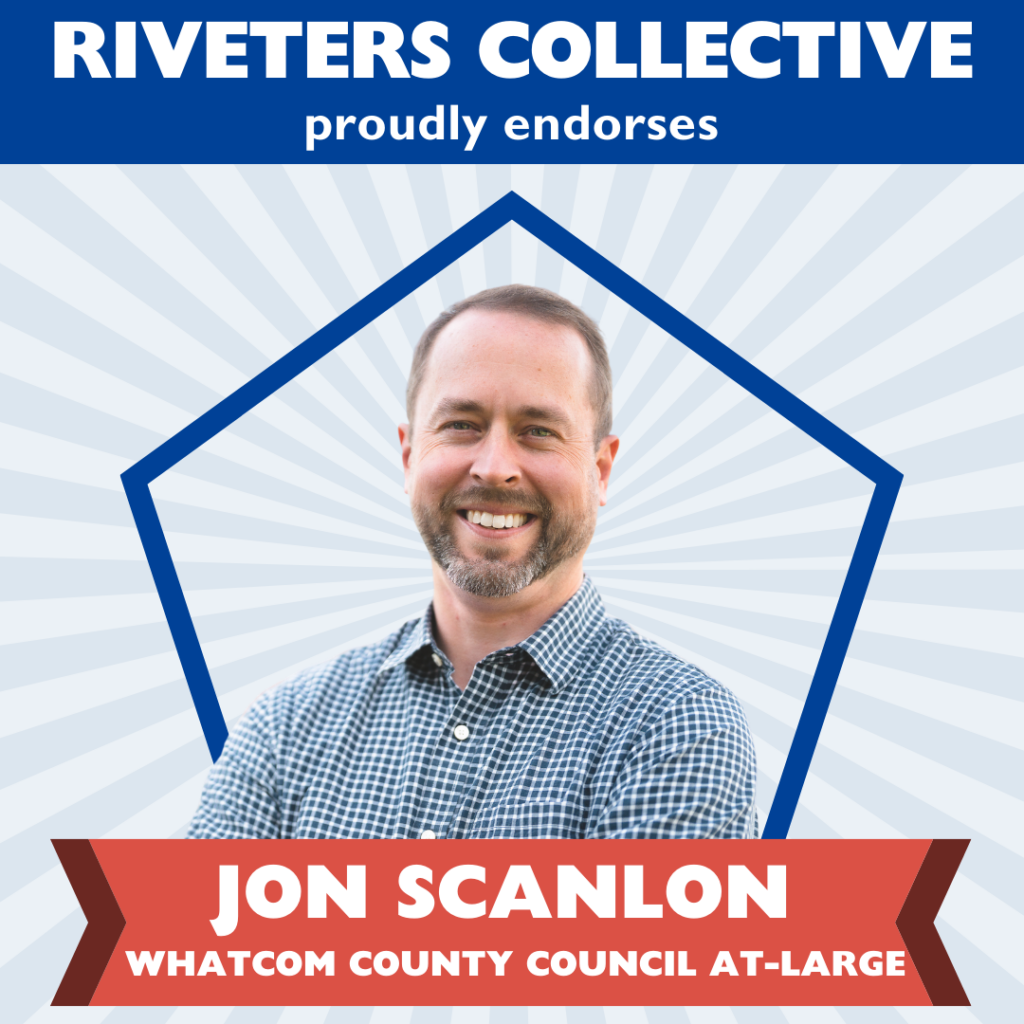 Jon Scanlon brings relevant experience working in multiple domains, including food security, in support of tribes; and climate change. He's done this work at the government level and with NGO organizations, on local, national and global scales. He does his homework and has detailed ideas for solutions suggested either in an existing report or learned from other communities. This breadth and depth of experience beyond Whatcom County can help expand our vision of what is possible and paths to get there. Beyond what we see on paper, however, members and allies of the Riveters Collective consistently related stories of positive experiences working with Jon. Jon is comfortable in supporting roles, seeking opportunities to contribute to good work already underway without seeking the limelight for himself. He is strategic, collaborative, and hardworking. We're very much looking forward to being partners with Jon in the future.
---
Recommended Candidates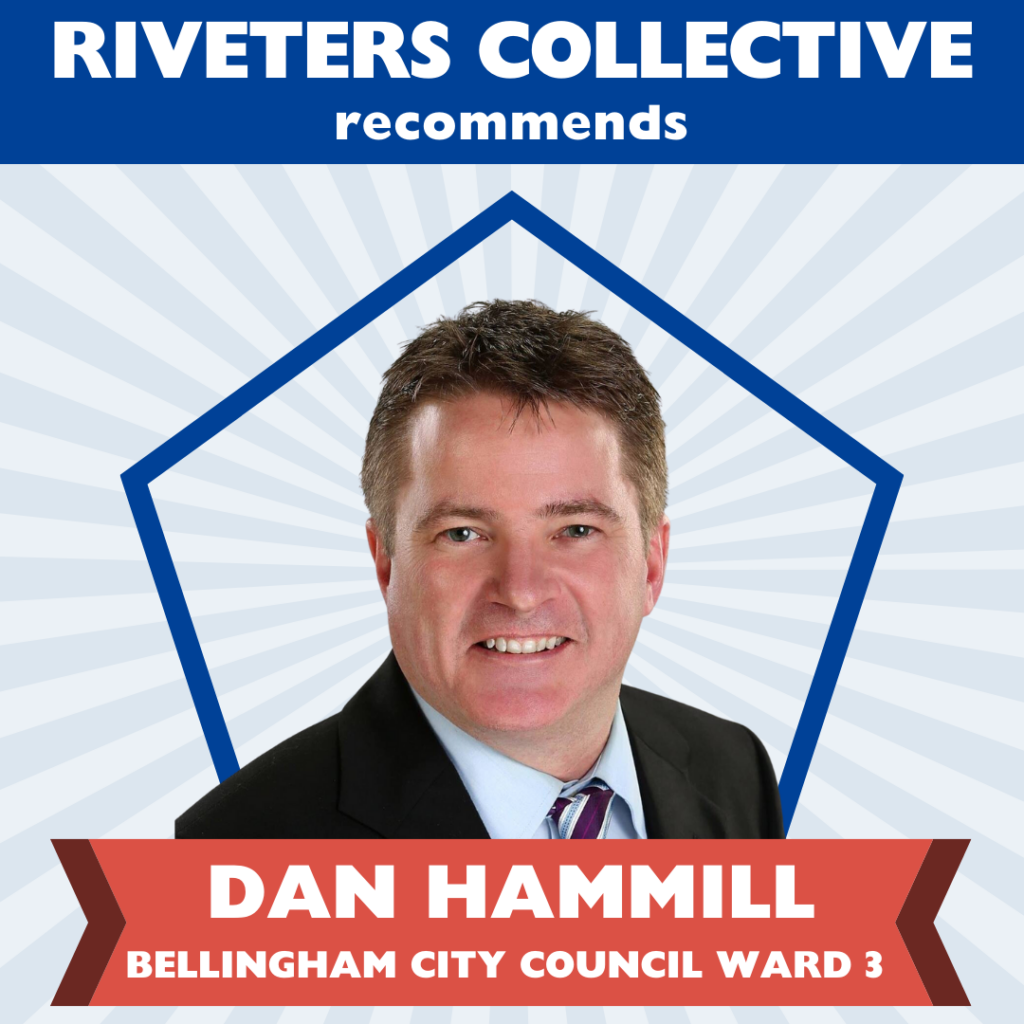 Dan Hammill has been a leader on Bellingham's City Council, helping to create the Alternative Response Team, the LEAD (Law Enforcement Assisted Diversion) program, and the Home Fund. He is an advocate for trauma-informed approaches to diversion such as Teen Court, after school and summer programs, apprenticeships, vocational training, and mentoring. Dan is an effective council member and we are grateful for his service to our community.
School Boards
With "culture wars" raging through school boards across the country, the Riveters Collective Board decided the stakes were too high to not make recommendations in the several local school board races with primaries. We did not conduct a full endorsement process for these races and primarily relied on publicly available information about the candidates to make our recommendations. In general, we were looking to identify the school board candidates with a commitment to freedom of expression, for children and teachers alike. We also believe that advocacy for inclusive policies and knowledge of educational equity are important to form a strong support system within our schools. We hope to see candidates with strong community engagement skills and a history of collaboration and communication. Some of the recommended candidates exemplify these qualities more than others, but we believe the candidates we've recommended for a race to be most closely aligned with our values.
Meridian School District Director 5 – Riley Sweeney
Blaine School District Director 2 – Ben Lazarus
Ferndale School District Director 2 – Adrian Sheridan and Brent Bode
Sedro Wooley School District Director 3 – Hannah Oliver
Lynden School District Director 3 – David Vis
---
Unendorsed Races
In addition to the endorsed races listed above, our Endorsement Committee sought to evaluate the following races, but did not receive applications for endorsement from any candidate in these races:
Port Commissioner
Bellingham City Council Ward 5
Whatcom County Council Position 4
Whatcom County Assessor
Bellingham School Board
---
Hear From the Candidates