Ballots are due August 4th for the Primary Election. Are you a 2020 perfect voter?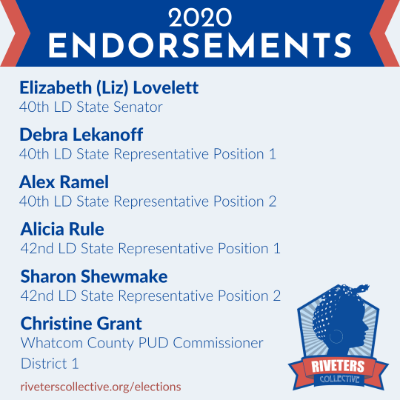 2020 Endorsements
Endorsement results of the Riveters Collective Endorsement process for 2020.
Endorsement Questionnaires
Candidate responses to Riveters Collective Endorsement Committee written questionnaires.
Endorsement Interviews
Videos of Riveters Collective Endorsement Committee interviews of candidates seeking a Riveters Collective endorsement.
Endorsement Process 
Description of 2020 Riveters Collective endorsement process and list of committee members.
Endorsement FAQ
Answers to common questions about Riveters Collective endorsements.
Policy on Ethical Behavior for Campaigns
Text of our zero-tolerance policy for some behaviors that will automatically disqualify a candidate from being eligible for, or may result in the withdrawal of a Riveters' endorsement. See our Code of Conduct requirement for campaigns.
Contested Primary Expectations for Candidates
Our endorsement comes with a responsibility to hold up progressive ideas and to treat other progressive candidates with respect.
Past Endorsements
2017 | 2018 | 2019
Local Election Info
Links will be added as they become available.
Local Candidate Forums and AMAs
A collection of links to candidate forum videos and Q&A or AMA sessions.
Whatcom County Auditor
Current election information provided by the Whatcom County Auditor on the Whatcom County website.
WA Public Disclosure Commision (PDC)
Track campaign fundraising, donations, and expenditures.
WA Secretary of State Elections Info
Statewide elections info, including online voter registration, initiative and referenda info, past elections info, and more.
Bellingham Tenants Union Endorsements
Candidate endorsements from our local tenant's rights advocacy group.
Whatcom County Democrats Endorsements
List of candidates who are endorsed by the Whatcom County Democrats in the Primary Election.
Whatcom County Republicans Endorsements
Information provided by Whatcom County Republicans on candidates they are recommending in the 2020 election.
Lummi Indian Business Council Endorsements
Candidate endorsements from the Lummi Indian Business Council.
The Stranger Endorsements
Candidate and initiative endorsements from The Stranger for State positions.
Progressive Voters Guide (Fuse)
Information provided by Progressive Voters Guide to help people make informed decisions about the races on their ballot.
NARAL Pro-Choice Voter's Guide
NARAL Washington's endorses candidates that make reproductive freedom a priority.
Alliance for Gun Responsibility
The Alliance for Gun Responsibility Victory Fund endorses gun violence prevention champions.
Sierra Club Endorsements
The Sierra Club endorses candidates who they believe will be environmental champions.
Washington Conservation Voters Endorsements
Washington Conservation Voters endorses candidates who they believe will be environmental champions.