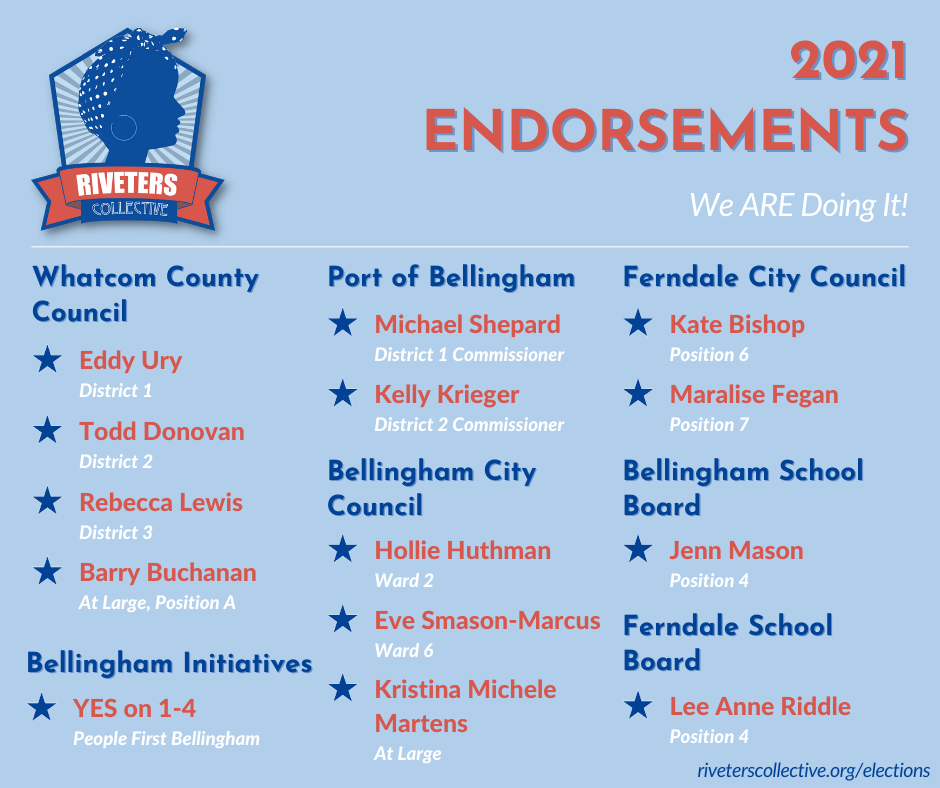 Welcome! This page will help you make informed and timely voting decisions.  There are links here to everything you should need. Ver esta página en español.
Quick Links
Primary Election 2021 Timeline
Tools for Voters
VoteWA.gov
This is your personal voting portal.  You can check to see if your ballot has been received, view an online voter guide, update your address and more. 
WA Public Disclosure Commission (PDC)
Track campaign fundraising, donations, and expenditures.
WA Secretary of State Elections Info
Statewide elections info, including online voter registration, initiative and referendum info, past elections info, and more.
Riveters Collective Endorsements
The Riveters Collective (RC) conducts an extensive endorsement process each year for local elections.  Our endorsement process selects candidates who will best represent our platform.
Learn more about our 2021 endorsed candidates.
Past Endorsements
2017 | 2018 | 2019 | 2020
Other Endorsements
Links will be added as they become available.
Whatcom County Democrats Endorsements
List of candidates who are endorsed by the Whatcom County Democrats.
Whatcom County Republicans Endorsements
Information provided by Whatcom County Republicans on candidates they are recommending in the 2020 primary election.
Lummi Indian Business Council Endorsements
Candidate endorsements from the Lummi Indian Business Council.
Nooksack Tribal Council Endorsements
Candidates supported by the Nooksack Tribal Council.
The Stranger Endorsements
Candidate and initiative endorsements from The Stranger for state positions.
Progressive Voters Guide (Fuse)
Information provided by Progressive Voters Guide to help people make informed decisions about the races on their ballot.
NARAL Pro-Choice Voter's Guide
NARAL Washington's endorses candidates that make reproductive freedom a priority.
Planned Parenthood Votes Northwest and Hawaii
PP Votes endorses candidates who will further reproductive rights for all.
Alliance for Gun Responsibility
The Alliance for Gun Responsibility Victory Fund endorses gun violence prevention champions.
Sierra Club Endorsements
The Sierra Club endorses candidates who they believe will be environmental champions.
Washington Conservation Voters Endorsements
Washington Conservation Voters endorses candidates who they believe will be environmental champions.
Washington Bikes Endorsements
Washington Bikes is the political voice for people in Washington who bike.