Welcome! This page provides information and links to help you make informed and timely voting decisions.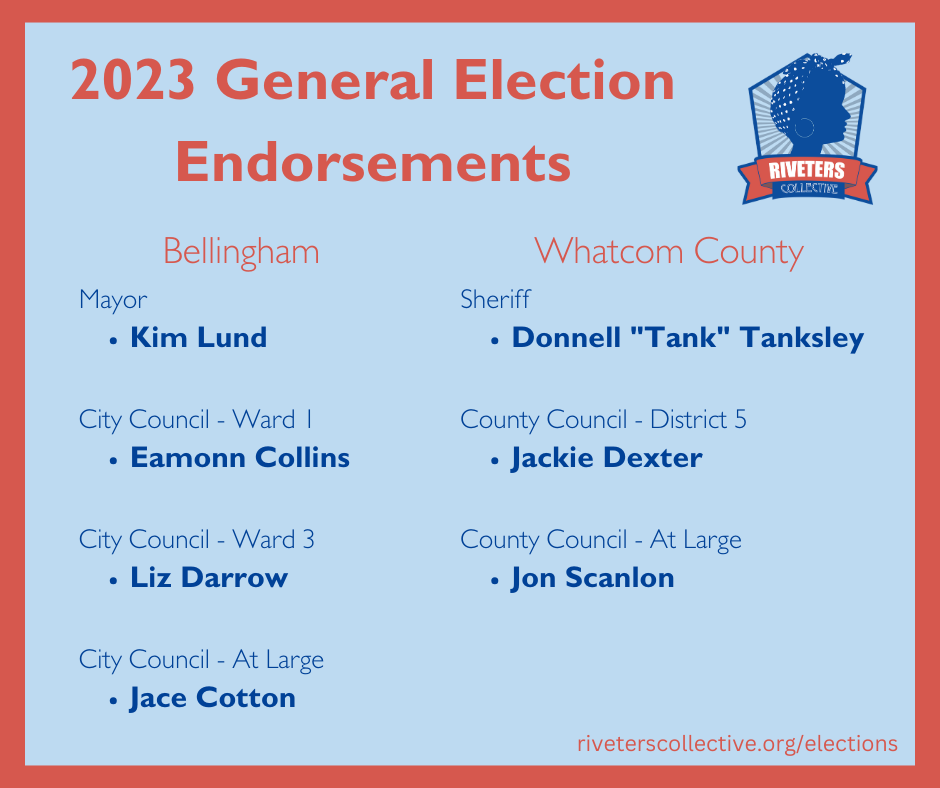 Quick Links
If you've moved since the last election, remember to

update your address

!

Don't sweat it if you lose your ballot – you can request a replacement one

on the auditor's website

!

Ballot drop boxes are the most reliable way to vote this year – check out this

map

to find the closest one near you!

View the online voters guide before your ballot arrives!
Check out our 2023 endorsements page

if you need more information about candidates!
General Election 2023 Timeline
Now:

Register to vote

or

update your address

July 14: Primary election ballots mailed to voters. Vote and return your ballot as soon as possible.
July 29: Put your primary election ballot in the mail today to ensure it's received in time! No stamp required.
August 1: Primary election day! Deposit your ballot in an official drop box by 8pm.
October 20: General election b

allots mailed to voters. Vote and return your ballot as soon as possible.

October 30: Last day to

register to vote

OR

update your address

online or by mail.

You can still register in-person at the Whatcom County Auditor's Office until 8pm on November 7.
November 4: Put your general election ballot in the mail today to ensure it's received in time! No stamp required.
November 7: Election day! Return your ballot using a ballot drop box before 8:00 pm. Register to vote

OR

update your address in person at the Auditor's office

before 8:00 pm.

Local elections in 2019 were so close they were decided by a coin toss.

Every vote truly counts!
Tools for Voters
VoteWA.gov
This is your personal voting portal. You can check to see if your ballot has been received, view an online voter guide, update your address and more.
WA Public Disclosure Commission (PDC)
Track campaign fundraising, donations, and expenditures.
WA Secretary of State Elections Info
Statewide elections info, including online voter registration, initiative and referendum info, past elections info, and more.
Riveters Collective Endorsements
Riveters Collective conducts an extensive endorsement process each year for local elections. Our endorsement process selects candidates who will best represent our platform. View our 2023 endorsement page for detailed descriptions about each endorsed candidate and other recommendations we have for upcoming elections!
Past Endorsements
2017 | 2018 | 2019 | 2020 | 2021 | 2022
Other Endorsements
Whatcom Democrats Endorsements
List of candidates who are endorsed by the Whatcom Democrats.
Whatcom County Republicans Endorsements
Information provided by Whatcom County Republicans on candidates they are recommending.
Nooksack Tribal Council Endorsements
Candidates supported by the Nooksack Tribal Council.
Cascadia Daily News Endorsements
Voter's Guide for the 2023 primary election.
Progressive Voters Guide (Fuse)
Information provided by Progressive Voters Guide to help people make informed decisions about the races on their ballot.
NARAL Pro-Choice Voter's Guide
NARAL Washington's endorses candidates that make reproductive freedom a priority.
Planned Parenthood Alliance Advocates
PP Alliance Advocates endorses candidates who will further reproductive rights for all.
Alliance for Gun Responsibility
The Alliance for Gun Responsibility Victory Fund endorses gun violence prevention champions.
Washington Conservation Voters Endorsements
Washington Conservation Voters endorses candidates who they believe will be environmental champions.
Washington Bikes Endorsements
Washington Bikes is the political voice for people in Washington who bike.
WEA-PAC Endorsements
WEA-PAC is the political action committee of the Washington Education Association. They endorse candidates who are pro-public education and pro-labor.
Lummi Indian Business Council Endorsements
Candidate endorsements from the Lummi Indian Business Council.
The Stranger Endorsements
Candidate and initiative endorsements from The Stranger for state positions.