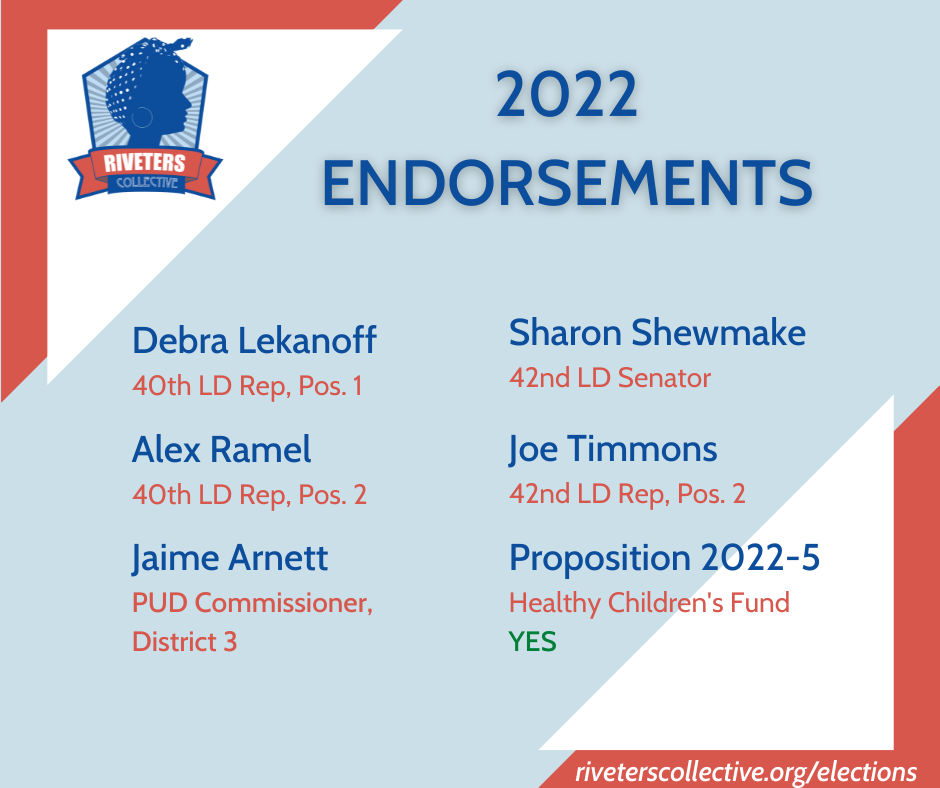 40th LD Representative, Pos. 1 – Debra Lekanoff
Debra Lekanoff brings her strengths in environmental and behavioral health issues to Olympia and has been involved in a wide variety of legislation. She also spoke in her endorsement interview about the importance of funding K-12 technology equitably in order to continue teaching and learning in ways that work for all of our students. While Debra has been a champion for these issues, we do hope, in the current climate, to see her become a champion on gun regulatory legislation. We recognize her as one of the hardest working legislators representing our community, and that is why Riveters Collective endorses Debra for 40th LD Representative.
40th LD Representative, Pos. 2 – Alex Ramel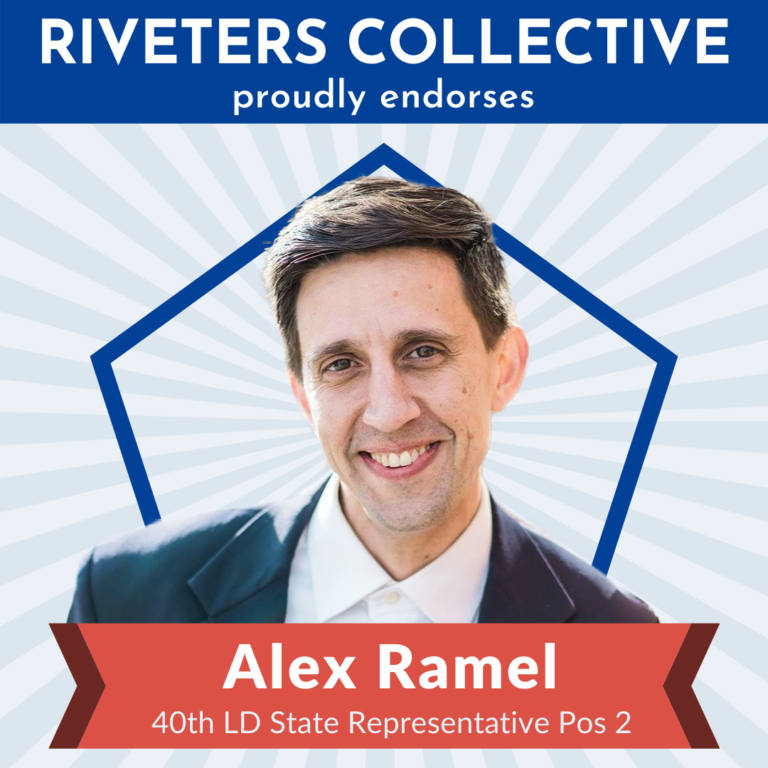 The only candidate to seek our endorsement in this race, Alex Ramel is a strong champion for our community, and is very passionate about and effective in his work. In his first full term in Olympia, he has developed a firm grasp on a variety of policy issues as well as how to move legislation that positively impacts both his constituents and the state as a whole. He cosponsored much of the police reform legislation from the 2021 session, as well as partnering with RC's Justice System Committee on a webinar to promote understanding of the new legislation to the broader community. He also supports common sense gun regulatory legislation, expanding access to early learning, and ensuring our K-12 schools are energy efficient. With his history of community engagement and the level of detail he brings to his work in Olympia, Alex has earned Riveters Collective's endorsement for 40th LD Representative.
42nd LD Senator – Sharon Shewmake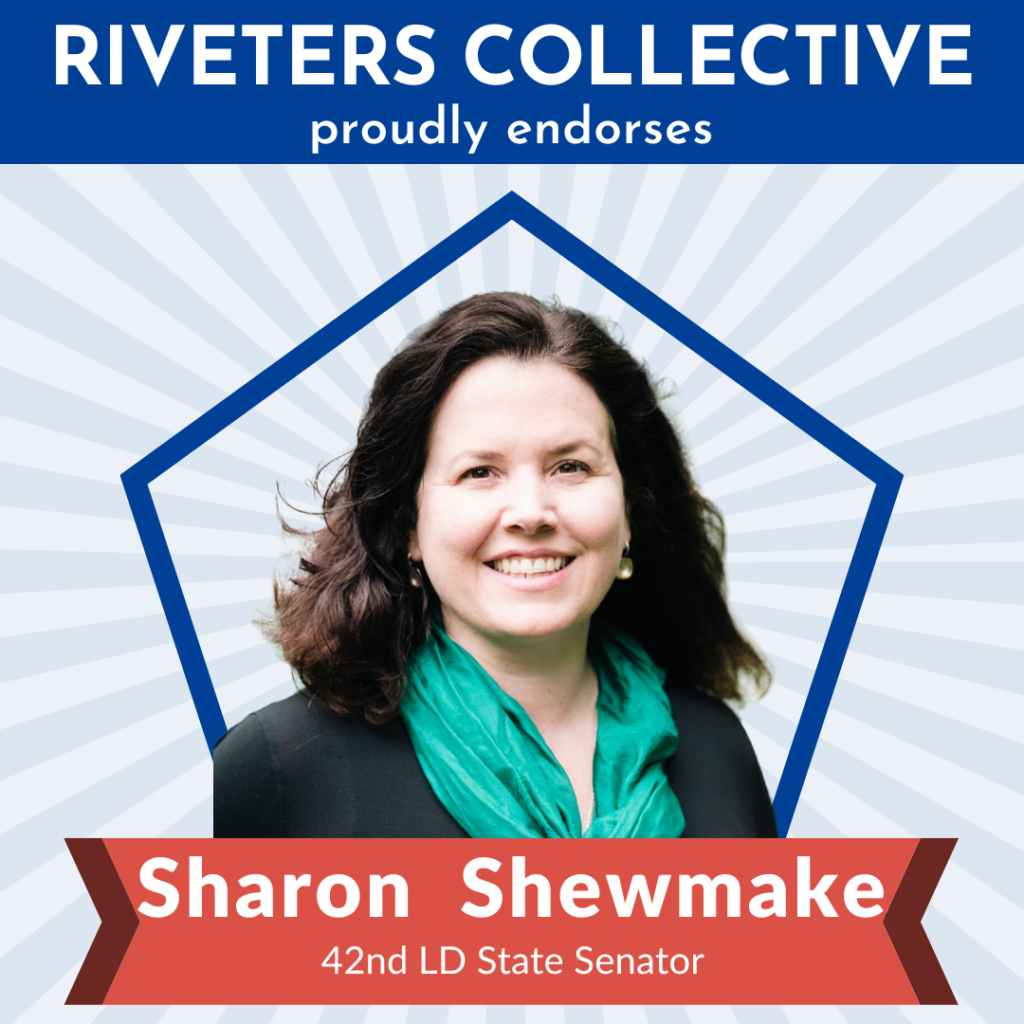 Sharon Shewmake has been a champion for children and families in the Washington State House and will continue doing so in the Senate. She helped secure funding for the Whatcom Resource Center and was one of the sponsors of the Fair Start for Kids Act. She also stepped in immediately to facilitate disaster relief during Whatcom County's flooding in late 2021, even going so far as to help provide meals to displaced constituents and assist with cleanup efforts. As an economist, Sharon is also data-driven and uses data to inform her decisions about issues such as salmon habitat restoration and early learning. Riveters Collective endorses sending Sharon to Olympia as our 42nd LD Senator to continue fighting for our children, families, and community.
42nd LD Representative, Pos. 2 – Joe Timmons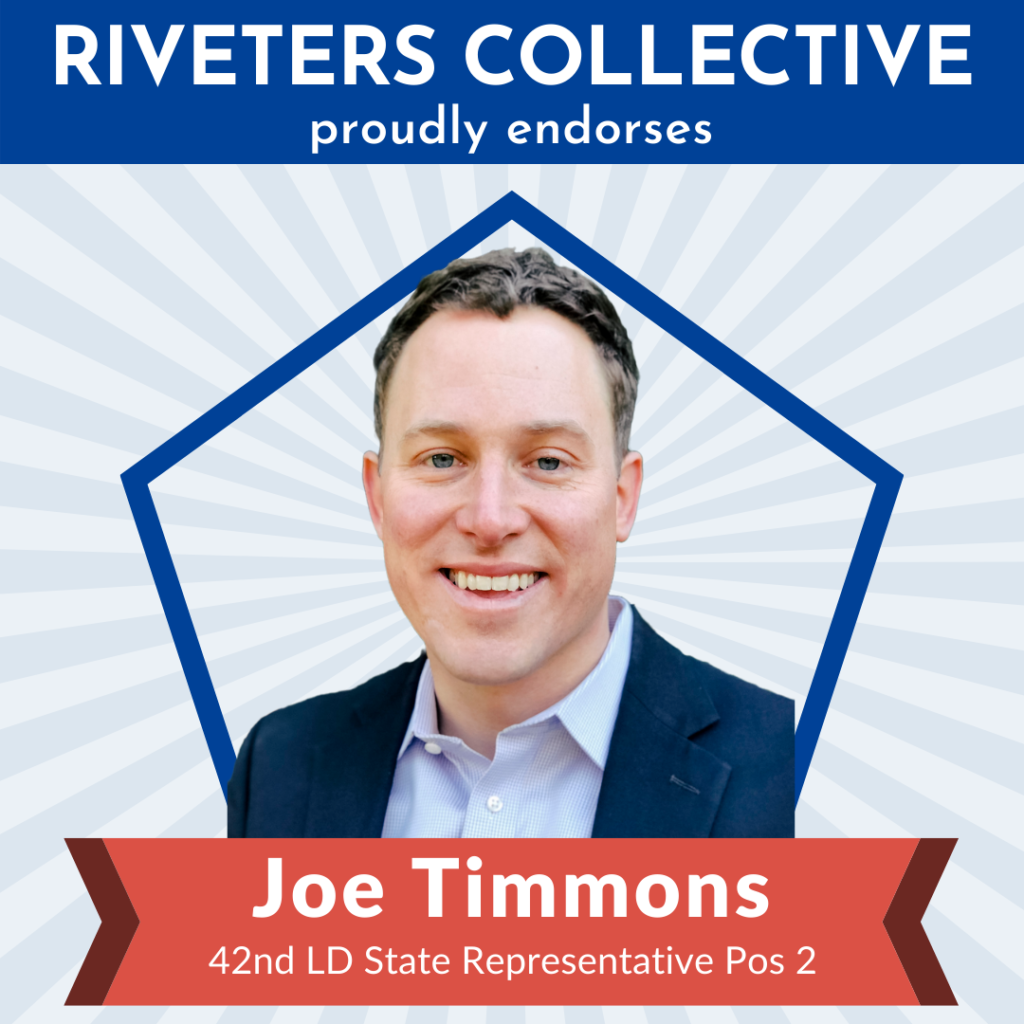 Joe Timmons will be a champion for our children, families, and community. He has personal experience with many of our families' most pressing issues: as a renter for many years, he understands firsthand how unsustainable our rapidly increasing housing prices are, and as a working parent, he knows how challenging it is to access quality childcare. He spoke about these issues with both in-depth knowledge and a passion to do something about them, and his experience in public policy and ability to collaborate will ensure he is able to. Joe also has the energy to learn about the areas in which he is unfamiliar and expresses a wholehearted willingness to listen to experts, including the people most impacted. Joe has earned Riveters Collective's endorsement for 42nd LD Representative.
Whatcom District Court Judge, Position 2: No Endorsement
After very intentional and lengthy deliberation, Riveters Collective has chosen not to endorse in this race. Our endorsement committee felt they were unable to determine how the two candidates seeking our endorsement would advance our platform, based on the questionnaire and interview responses provided by the candidates.
While we are not making an endorsement in this race, the endorsement committee felt that of the candidates who went through our process, Gordon Jenkins will be a judge who will serve fairly. Gordon's responses to our questions showed a humanity and a self-reflectiveness that are of value for a judge in the "people's court". While Jonathan Rands showed that he is knowledgeable and has a depth of experience working with members of underserved communities, the committee was unable to determine how these experiences would translate to systemic change in our justice system. Riveters Collective looks forward to working with both Gordon and Jonathan throughout the duration of the election, as well as continuing policy discussions should either of them be elected in November.
Whatcom County PUD Commissioner, District 3 – Jaime Arnett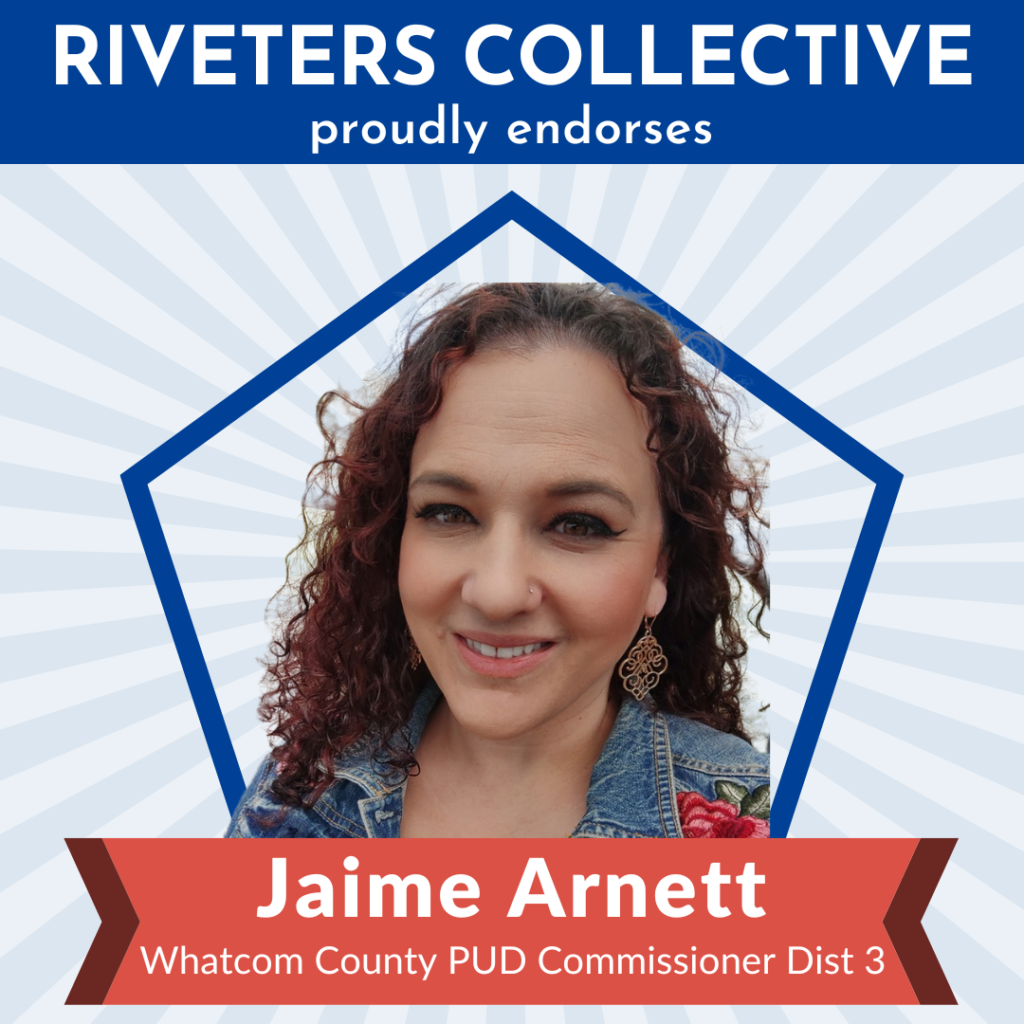 Jaime Arnett will bring a lot of energy to the commissioner's role. She understands the importance of broadband access and how lack of access is an equity issue, as well as how broadband access impacts youth mental health – an area she has extensive experience with through her work as Executive Director of Animals as Natural Therapy. Jaime also brings her background in commercial fishing to the role, drawing upon her professional knowledge to articulate why protecting salmon habitat is crucial for our region. Furthermore, she is committed to ensuring the tribes have an active role in forming regional water policy as well as ensuring the PUD honors the Treaty of Point Elliott. It is for all of these reasons that Riveters Collective endorses Jaime Arnett for PUD Commissioner.
Whatcom County Proposition 2022-5 Healthy Children's Fund) YES

Riveters Collective believes the right to a quality education begins with our youngest learners. Lack of access to childcare and early learning is an equity issue, and closing this access gap will benefit children, families, and our community. Additionally, we believe in improving the quality of current early learning and childcare programs. We enthusiastically endorse voting YES on Prop 5.
No candidates completed our endorsement process for the following races:
42nd LD Representative, Pos. 1
Whatcom County Prosecutor
Whatcom District Court Judge, Position 1