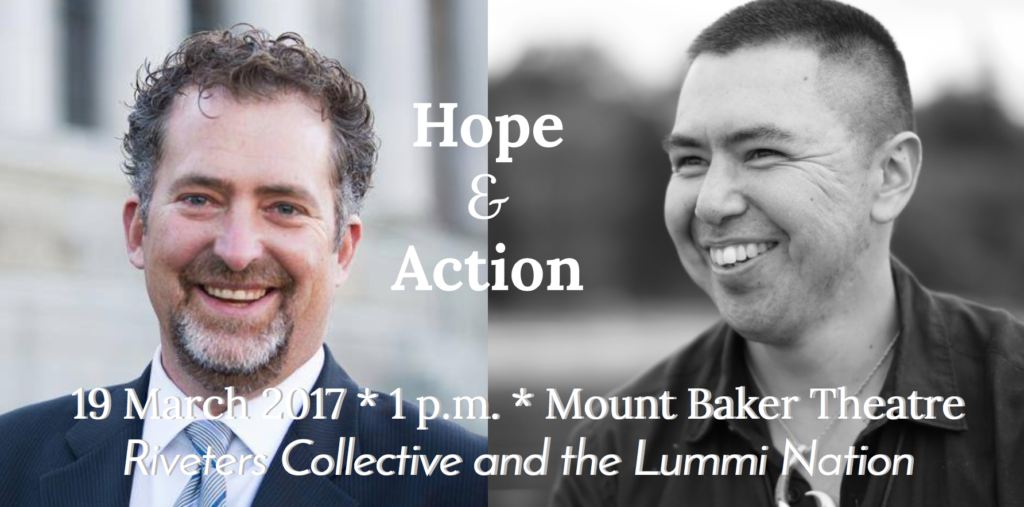 Join us for an inspirational and practical forum featuring state senator Kevin Ranker and Timothy Ballew II, chair of the Lummi Nation.
Senator Ranker will provide specific ideas for what each of us can do to stand up for our core values in the face of our current administration.  Ranker is clear:  there are core areas about which we cannot compromise:  women's rights, minority rights, LGBTQ rights, access to quality education, reproductive health and choice, environmental protection.  Chairman Ballew will share opening words.
You'll leave the presentation fired up, with a list of ideas for what you can do now to bring about positive change!  
This free event is co-sponsored by the Lummi Nation and Riveters Collective.
Date: Sunday, 19 March 2017
Time: 1:00 p.m.  Lobby doors open at 12:00, theater doors at 12:30
Location: Mount Baker Theatre
Tickets: This is not a ticketed event.  Attendance is free, and seating is on a first-come, first-served basis.
R.S.V.P. To receive updates, r.s.v.p. to our Facebook event or check this page.
Accommodations: We plan to have an ASL interpreter.  Guests can also request assistive hearing devices from theatre ushers or staff.  The theatre has eight permanent wheelchair spots.
DONATE HERE: We met our fundraising goal, no more donations!