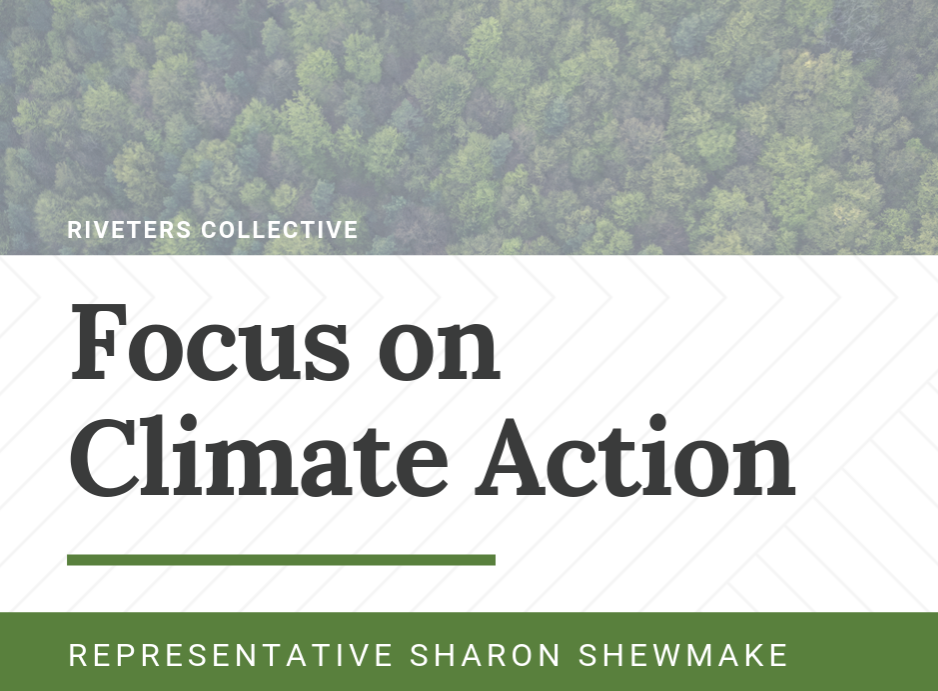 In a recent poll completed by Riveters Collective seeking input on what areas the organization should focus on in the upcoming year, Climate Action was the top priority. Each month, Riveters Collective will highlight climate action mitigation policies and strategies that our endorsed elected officials are implementing in our communities.
Our first Focus on Climate Action is with Representative Sharon Shewmake. Representative Shewmake was elected in 2018 to serve in the 42nd Legislative District. Following are three policies related to climate that she plans to champion during the 2020 legislative session.
Natural Gas Leaks in Our Cities
Natural gas is a potent greenhouse gas. Even small leaks can add up to high levels of greenhouse gas emissions. Unfortunately, the incentives utilities have to fix leaks encourage leaky infrastructure. Utilities are currently allowed to pass the costs of all the gas that leaks out of the pipes along to the ratepayers, unless the leak is likely to explode. We need to fix this for the environment and for rate-payers who shouldn't be paying for gas they don't get.
In partnership with the utilities, unions, and environmental community, Representative Shewmake is writing a bill that would change this. In short, it would mandate a cost-benefit analysis that would incorporate 1) the cost of the wasted gas, 2) the social cost of that carbon, and 3) the human safety-related costs of any leaky infrastructure. If 1+2+3 is a dollar figure larger than what the repair would cost, the utility would be required to fix the leak.
Representative Shewmake plans to introduce this bill for the first time in January. If passed, Washington would have the strongest policy in the nation to deal with fugitive emissions and she hopes other states would follow suit.
The "Sustainable Farms and Fields Act"
Farms don't just produce food, they also have the potential to help us fight climate change by storing carbon. HB 2095 is a bi-partisan bill that Representative Shewmake helped develop that would pay farmers to sequester carbon and reduce fossil fuel use on farms. The idea is that we could have a local offset program where those looking to offset CO2, including the state government, could invest in carbon sequestration on farms. The Senate version of this bill made it pretty far through the process, but eventually got stalled. A few agricultural associations felt like they were insufficiently consulted during the bill's development and asked that the House of Representatives step in to slow the process down. Representative Shewmakeis working on it over the rest of 2019.
This work is being funded by a "budget proviso" that Representative Shewmake wrote and got included in last year's state budget.
She told us, "I'm really excited about this bill – I think it is a great policy both for our farmers and for our climate. My hope is that, together, the stakeholders will try to pass the new-and-improved "Sustainable Farms and Fields Act" in 2020!"
Tax Break for Electric Bikes
Representative Shewmake wrote a bill last year that would incentivize the purchase of electric bikes by setting up a tax break. It would get rid of the sales tax on the purchase of an electric bike, which can really add up! The idea is to decrease the barriers to adoption of electric bikes, which are a fantastic low-carbon alternative to cars.
Though the bill didn't pass last year, the Governor's office and other major stakeholders took notice and Representative Shewmake is having regular meetings with them about how we can move this innovative idea toward implementation in 2020!
You can email Representative Shewmake at Sharon.Shewmake@leg.wa.gov.
And, subscribe to her newsletter here.
Stay tuned for regular Focus on Climate Action updates from other elected leaders in our community.