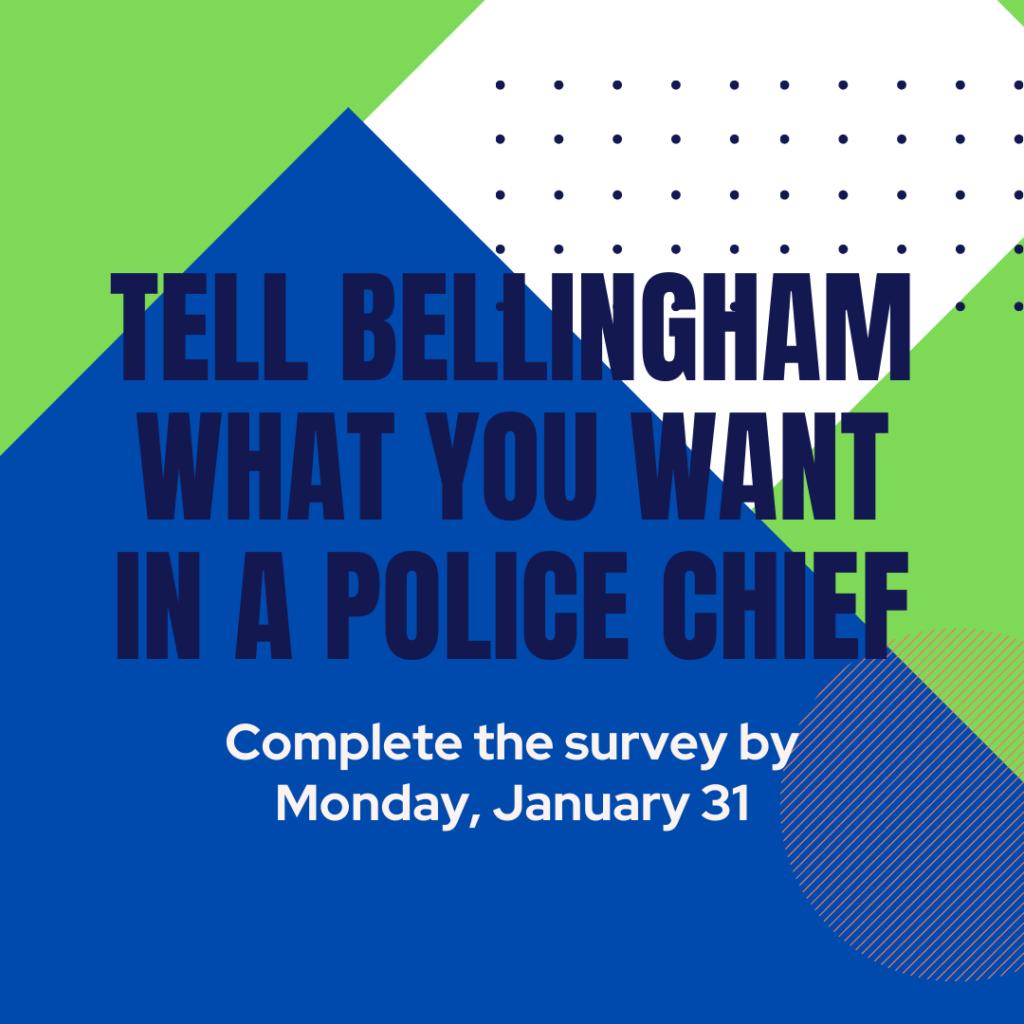 The City of Bellingham is asking for our feedback as they consider hiring the next Police Chief. Details about the position, community feedback opportunities, and candidate selection timeline are available at the Community Feedback About Police Chief Selection webpage.
The survey questions posed by the City are in bold (see below) followed by potential responses you can use when you fill out the Police Chief Selection Survey (use Community Feedback link to find survey). Feel free to use one or several responses for each question or provide your own.
What qualities are most important to you in our next Police Chief?
Ability to build a culture & practice of policing that reflects the values of protection & promotion of the dignity of all, especially the most vulnerable
Compassion for the community, integrity, and professionalism
Trustworthy and transparent
Commitment to eliminating white supremacy and systemic racism in the department and in the community
Experience leading a department that achieved decreases in use of force and increases in de-escalation & alternatives to arrest
Experience collaborating with communities to identify problems & collaborate on implementing solutions that produce meaningful results for the community
Create an environment where officers work as guardians, rather than warriors
Supports officer wellness and trainings so they have the skills and bandwidth to respond empathetically to our most vulnerable populations
Promote community policing, where police practice and regularly have non-enforcement interactions with the public. Familiar with New Era of Public Safety: A Guide to Fair, Safe and Effective Community Policing, and willing to implement ideas into department
What are the most important public safety needs in Bellingham?
We recommend completing this section based on your own experiences and concerns. If you're interested in responding to the need for improvements to policing that center around accountability measures to the public, consider the following suggestions.
Providing people that are homeless or experiencing behavioral or mental health crisis with an unarmed specialist response or co-responder model that pairs police with a behavioral health expert
Providing data on police interactions with community members in an open disaggregated data dashboard
Establishing a civilian oversight board for complaints against police
Collecting demographic data for all police/individual interactions
Honest and unbiased communications by Bellingham Police Department staff
What do you believe should be the top priorities for your next Police Chief?
Advancing transparency in data and accountability to the public by having an open data dashboard
Civilian oversight of law enforcement to strengthen trust with the community and hold officers accountable
Building relationships based on trust with immigrant, indigenous, unhoused, and visible minority communities
Tracking and addressing biased policing
Curbing the excessive militarization of the police force by imposing meaningful restraints and adopting best practices
Partnering and supporting the City in developing a 24/7 mobile crisis intervention first responder units for behavioral/mental health responses (instead of armed, law enforcement)
Reducing incarceration, focusing on rehabilitation, and reducing recidivism

What question would you like to ask the candidates for Police Chief?
Which new police practice law from 2021 do you feel keeps the public most safe? Explain why.
What are the top three changes you would make to current police practices to address systemic racism?
Would you support and advocate for a civilian-led oversight board with disciplinary authority to address police misconduct? If so, what recommendations do you have for selecting a diverse, well-balanced, community-represented board?
How do you think the Chief, as the leader in the County's biggest city, might be able to influence departments in outlying areas of the county toward more progressive policing practices?
Do you believe a series of public complaints against one officer indicates a potential pattern of misconduct or conduct unbecoming an officer? If so, what steps would you take?
Would you support and advocate for releasing open data sets about policing? If so, which 3-5 data sets would you first release? Data set examples include incident/calls for service, police department demographics, stops data, assaults on officers, etc.
Do you support House Bill 1202, which would hold officers and agencies accountable for patterns and practices of violating the law?
Please complete the City's questionnaire by January 31: https://engagebellingham.org/police-chief
We thank the City of Bellingham for improving the police chief hiring process by posting a more descriptive timeline and including a stakeholder/community engagement event. We support these transparency and accountability efforts and look forward to following how they play out.